Dark Field Microscope ADVANCED-Set
The ADVANCED set is our low-cost dark field solution with LED technology for live blood observation through the eyepieces, Live View in HD quality (on the PC monitor or TV screen) and capturing of images and videos. It is the recommended choice for users who value high image quality and the detection of the smallest details. Also the fact that the camera is connected via HDMI directly to the monitor (and therefore not "slowed down" from the USB port of the PC) has the advantage that you have a "fast image" in HD full screen mode (1920x1080).

The included HD camera has two outputs: one HDMI output for direct connection to an HDMI monitor or -TV (recommended usage) and a USB output for alternative use with a Windows PC. In HDMI mode produces the highest quality image. Pictures and videos are recorded in this mode on the included SD memory card on the camera and can later be transferred to the PC or can be played directly from the camera - the camera has an image gallery function with playback capability of images/videos!
What is the "small difference" compared to the HD-Set?
The difference to our high-end HD set that makes the ADVANCED set more economical lies exclusively in the camera equipment. Below for your orientation a comparison:
Frames/sec in HDMI mode: HD-Set: 60fps, ADVANCED-Set: 15fps
Frames/sec in USB mode: HD-Set: 30fps, ADVANCED-Set: 15fps
Sensor: HD-Set: SONY IMX236, ADVANCED-Set: APTINA MT9P031
Video recording on SD card: HD-Set: 1080p 30fps, ADVANCED-Set: 1080p 15fps
Despite these technical differences the ADVANCED set is still a good choice for professional use!
Sample Capture
The following capture has been made with the ADVANCED-Set at 400X maginfication.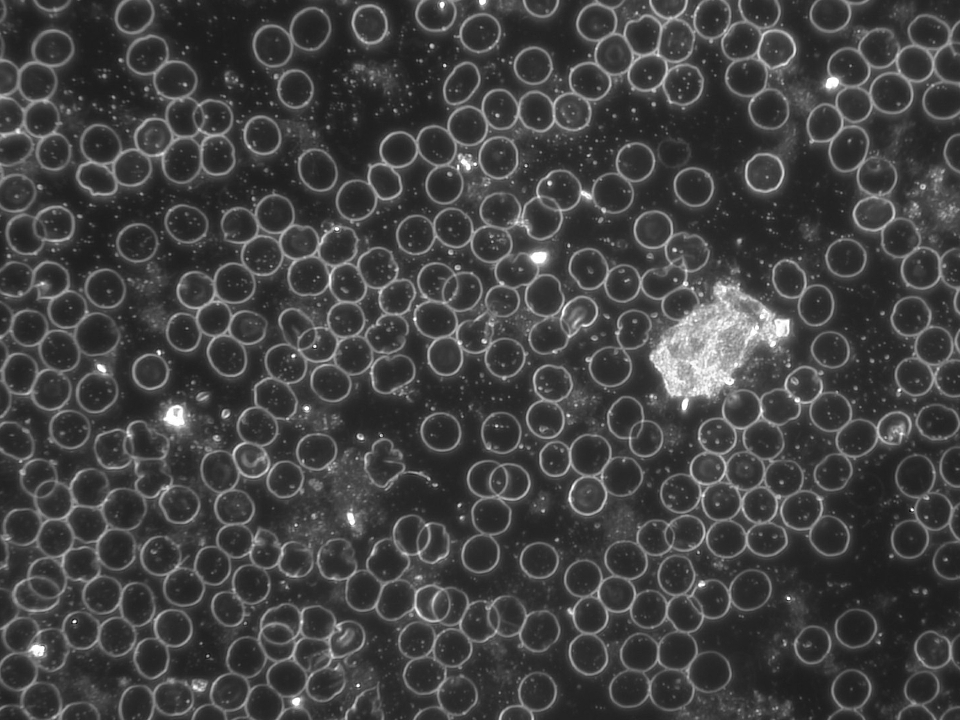 Set Contents
Dark field microscope OPTIKA B-510DK
Microscope camera Tucsen HD Lite
Microscope camera adapter with focusing ring OPTIKA M620.1
Below you can find the detailed description of each component.
---
Dark field microscope OPTIKA B-510DK
The darkfield microscope OPTIKA B-510DK belongs to the OPTIKA 500 series; This product line includes models with excellent performance, designed for laboratory use. It is ultra-modern (LED technology), robust (die-cast frame), ergonomic and is mainly suitable for the vital blood examination . It can be combined via adapter with microscope and/or SLR cameras for live viewing and microscopic recordings.
Head
Trinocular observation head, 360°rotatable, 30° inclined
Eyepieces
Plan extra wide field, PL 10X/22
Objektives
IOS Planachromatic 4X, A.N. 0.10, W.D. 17,3 mm
IOS Planachromatic 10X, A.N. 0.25, W.D. 10 mm
IOS Planachromatic 40X, A.N. 0.65, W.D. 0,54 mm
IOS Planachromatic 100x with iris, A.N. 0.36-1.25, W.D. 0,18 mm (oil immersion)
Nosepiece
Quintuple revolving nosepiece, rotation on ball bearings
Stage
Double layer with mechanical sliding stage, size: 233x147 mm, X-Y movement range 78x54 mm. Belt-drivein X direction. Vernier scale on two axes, accuracy 0.1 mm
Focusing
Coaxial coarse and fine focusing mechanism (graduated 0.002 mm)
Condenser
Darkfield condenser N.A. 1.36 with integrated X-LED
Bright field condenser
Illumination
LED-Technology, color temperature: 6.300K, LED average lifetime: ca. 50.000 hours of operation
Extensions (optional, adapter needed)
c-mount cameras
SLRs with APS-C or full-frame sensor
Technical Specifications
Please click on the "MEDIA" tab to find the manufacturer's technical specifications.
Sample captures
The following video was taken through the trinocular tube with the 40X lens (total magnification: 400X)


---
HDMI Microscope Camera TUCSEN HD LITE
The HD LITE is a more lite version compared to our flagship HDC DF1. The difference is mainly on the one side in the used image sensor (instead of the SONY IMX236 of HDC DF1 this model uses an Aptina MT9P006 Sensor) and in the processsing power as this model achieves e.g. 15 fps in HDMI mode (instead of 60 fps).Despite these compromises the performance of this camera for most applications is more than adequate and provides a very cost-effective solution at HD picture quality.

Multi-Signal Output: The camera can be connected directly to a HDMI monitor (standard use) or alternatively to a PC (via USB connection). You can also use both outputs in parallel as it provides the signal to both all the time. In both modes, the camera offers high refresh rates, ideal to keep track of microscopic movements and record them.

Flexible Exposure Times: In addition to the auto-exposure, you can adjust the exposure time and the gain manually. The exposure time can be set between 1 ms and 10 seconds (step: 1 ms).

Zoom – Mirror - Compare: Both the on-screen menu (HDMI mode) and the PC application (USB mode) provide zoom function and the possibility of mirroring the picture horizontally and vertically. By choosing the comparison function, half of the monitor (vertically divided) shows the live view and the other half shows an already captured image you selected.




Built-in Mouse Control is a special feature of this model: in HDMI mode the supplied mouse can be connected to the USB port on the camera. With the mouse you can then activate the on-screen menu and record with his help, photos and adjust all the camera settings.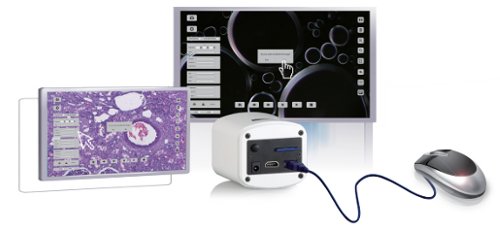 Fast Video-Recording: The camera achieves recording in HDMI mode 15 fps at 1080P.

Built-In Player: Previously taken pictures and videos are stored on the SD card in the camera. You can view and play them from the camera to the HDMI monitor using the gallery function - no PC is required!


360° Product View
Technical Specifications
Sensor: APTINA MT9P006 (1/2.5") 2592×1944
Frame Rate (USB): 15fps (1920x1080)
Frame Rate (HDMI): 15fps (1920x1080)
Video capture: 1080p 15fps (on SD or PC)
Exposure range: 0.001 sec - 10 sec
White balance: automatic
Outputs: HDMI, USB 2.0, SD card
Compatibility: Windows XP/7/8/10 (32/64 Bit)
Physical interface: c-Mount
Weight (g): 260
Size (cm): 9 x 7,5 x 6,5
Package Contents
Camera
CD with software TCapture for Windows (english)
HDMI cable
USB cable
power supply 12V/2A
USB mouse
SD card
We'll inform you if the price of this product will be changed according to your price alert.
---
Customers who bought this product also bought
Customers who bought this item also bought one of the following products.
Accessories
The following products fit well to this product.
Have you seen?
Customers who viewed this product also viewed the following products.