Dark Field Microscope UHD-PLUS-Set
The UHD-PLUS-Set is our dark field system with LED technology including camera and monitor in UHD (Ultra High Definition) resolution - that means 3840x2160 pixels. It offers vital blood observation through the eyepieces as well as live view and the ability to record images and videos through the integrated camera. It is the recommended choice for users who value the highest image quality.

The camera supplied has two outputs: an HDMI output for direct connection to the supplied monitor (recommended type of use) and a USB output for optional use with a Windows PC. You can even use both outputs at the same time. HDMI mode gives you the highest frame rate and quality. In this mode, pictures and videos are recorded on the supplied and easily removable SD memory card on the camera and can then be transferred to the computer or played back directly from the camera to the monitor - the camera has an image gallery function with the ability to display pictures/videos!

The camera's c-mount adapter included in the set has built-in optics and a focusing ring. After adjusting the focus ring, the image through the eyepieces and on the screen gets displayed sharply at the same time, so no annoying re-adjustment is necessary. This adjustment would not be possible with cheaper adapters with a fixed focal length and without a focusing ring.
Set content:
Dark field microscope OPTIKA B-510DK
Microscope camera adapter OPTIKA M620.1
Microscope camera HDC DF4
Monitor Samsung 31.5" UHD
Below is the more detailed description of the microscope and the camera.
---
Dark field microscope OPTIKA B-510DK
The darkfield microscope OPTIKA B-510DK belongs to the OPTIKA 500 series; This product line includes models with excellent performance, designed for laboratory use. It is ultra-modern (LED technology), robust (die-cast frame), ergonomic and is mainly suitable for the vital blood examination . It can be combined via adapter with microscope and/or SLR cameras for live viewing and microscopic recordings.
Head
Trinocular observation head, 360°rotatable, 30° inclined
Eyepieces
Plan extra wide field, PL 10X/22
Objektives
IOS Planachromatic 4X, A.N. 0.10, W.D. 17,3 mm
IOS Planachromatic 10X, A.N. 0.25, W.D. 10 mm
IOS Planachromatic 40X, A.N. 0.65, W.D. 0,54 mm
IOS Planachromatic 100x with iris, A.N. 0.36-1.25, W.D. 0,18 mm (oil immersion)
Nosepiece
Quintuple revolving nosepiece, rotation on ball bearings
Stage
Double layer with mechanical sliding stage, size: 233x147 mm, X-Y movement range 78x54 mm. Belt-drivein X direction. Vernier scale on two axes, accuracy 0.1 mm
Focusing
Coaxial coarse and fine focusing mechanism (graduated 0.002 mm)
Condenser
Darkfield condenser N.A. 1.36 with integrated X-LED
Bright field condenser
Illumination
LED-Technology, color temperature: 6.300K, LED average lifetime: ca. 50.000 hours of operation
Technical Specifications
Please click on the "MEDIA" tab to find the manufacturer's technical specifications.
Sample captures
The following video was taken through the trinocular tube with the 40X lens (total magnification: 400X)


---
HDMI/USB/NW microscope camera HDC DF4
The DF4 model is the right choice for users who, on the one hand, expect very high quality standards for image quality and, on the other hand, want to remain flexible with regard to system compatibility. Good image quality is guaranteed by the built-in SONY IMX334 (C) CMOS color image sensor, which enables pictures in a resolution of 3840 x 2160. In terms of compatibility, the camera can be operated with or without a PC and can be used in a number of operating modes: HDMI (without PC), USB (with Windows PC) and network mode (with Windows PC).

The most important functions of the camera can be found below - functions marked with (*) are only available using the supplied Windows software - and not in pure HDMI mode.

Multi-signal output : The camera can either be connected directly to an HDMI monitor (via the HDMI connection, without a PC in between) or alternatively to a PC (via the USB connection). In both modes, the camera offers high refresh rates to track and record microscopic movements. However, the camera can also be used in mixed mode by working on the PC and additionally transmitting the image via the HDMI output to a second HDMI monitor.

Video stream over network : The HDC DF4 camera can be connected directly to the network via Ethernet cable and stream the live image over the network. PCs in the same network (same network segment and installed Windows software application of the camera required) can recognize the camera and the user can obtain the video stream via the network instead of via USB. This enables the live image to be made available to colleagues who are not present in the same room.

Flexible exposure times : In addition to the auto exposure, you can also set the exposure time (exposure) and the gain (gain) manually depending on the application. The exposure time can be set almost continuously up to 1 sec (gradation: 1 ms).

ROI - Flexible White Balance : You can choose between automatic and manual white balance. In addition, you can activate an automatic white balance with reference to a selectable image region (ROI - region of interest). In the ROI white balance mode, you frame a rectangular area on the image (rectangle can be moved and size can be adjusted with the mouse). The software then only takes over this area as a reference for white.

Auto-Stitch * : The software can combine several partial overlapping images into one overall image at the push of a button. We generated the sample image below from five images (overlapping area between images of 10-15%) fully automatically.




Interval Recording *: Interval recordings can be programmed, whereby the time interval between the single image captures and their total number can be selected. With this e.g. biological decay processes can be documented over time.

Built-in Mouse Control (HDMI mode) is a special feature of this model: the included mouse is connected to the USB port of the camera. With the mouse you can then operate the on-screen display menu and use it to take pictures and videos and make all camera settings - completely without a PC and software installations!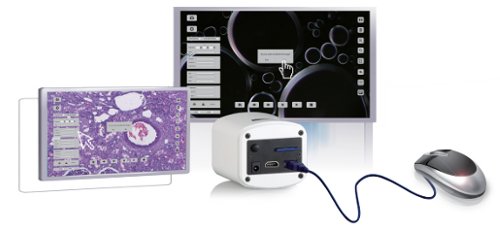 Video recording on SD card (HDMI mode): Videos and pictures can be recorded in 4K quality directly on the removable SD card.

Built-In Player : (HDMI mode): Images and videos already recorded are saved on the SD card of the camera. You can scroll through them and have the camera play them on the monitor - without a PC!


Sample captures
In the following video you can see a video recording of the DF4; it is the movement of predominantly red blood cells in the blood (dark field, magnification: 400X, OPTIKA B-510DK microscope)




In the following picture you can see a picture of the mouth tool of a honey bee (bright field, magnification: 100X, OPTIKA B-510DK microscope).




In the following picture you see a picture of a plant section (bright field, magnification: 100X, OPTIKA B-510DK microscope).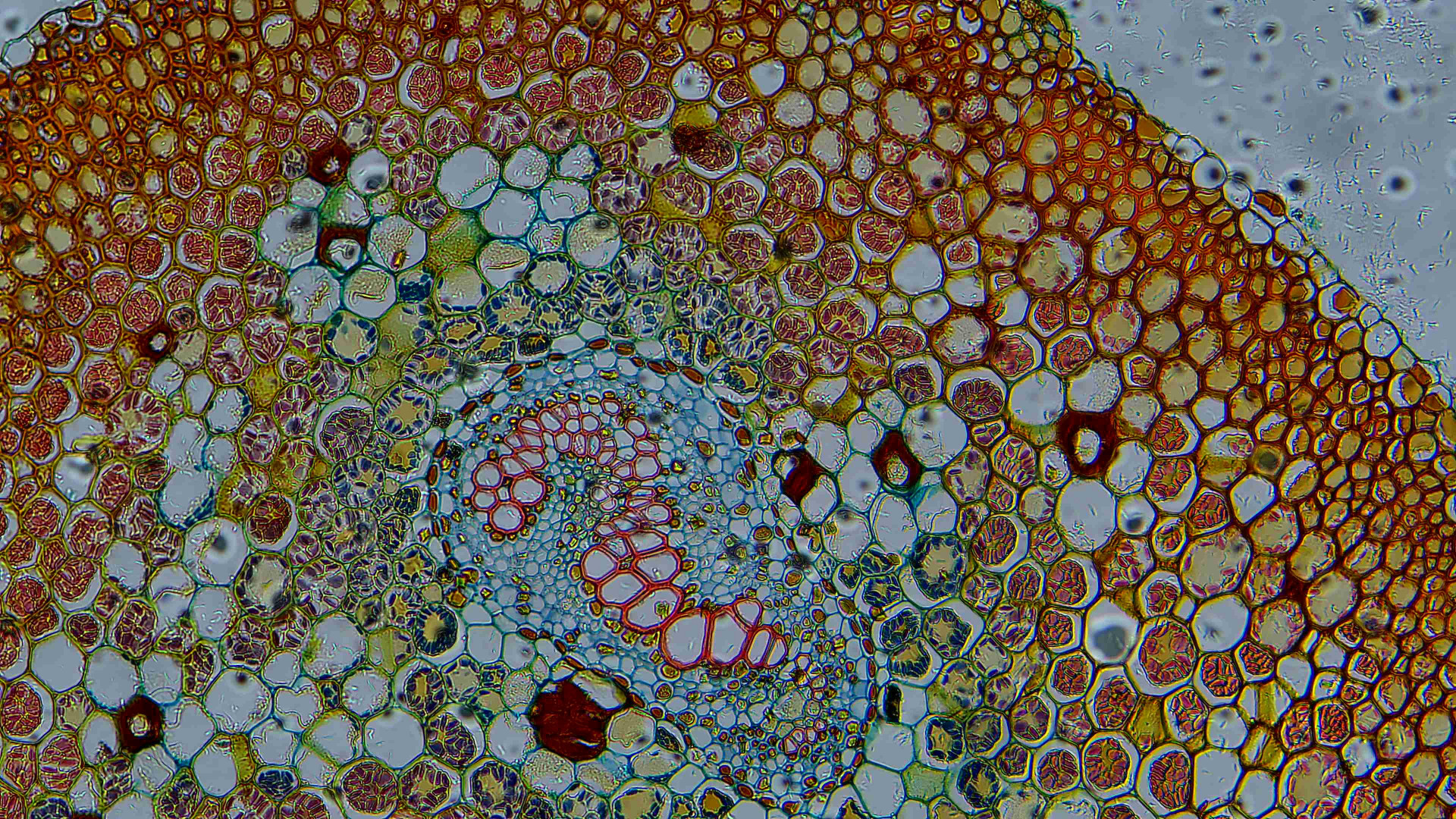 Windows User Interface
The multilingual user interface of the Windows software supplied offers on the one hand, the control options for the camera parameters (exposure, gain, recording) and on the other hand, options for image correction (white balance, color tones, etc.) as well as access to the extended functions (measurement, extended depth of field, auto-stitch etc.) .)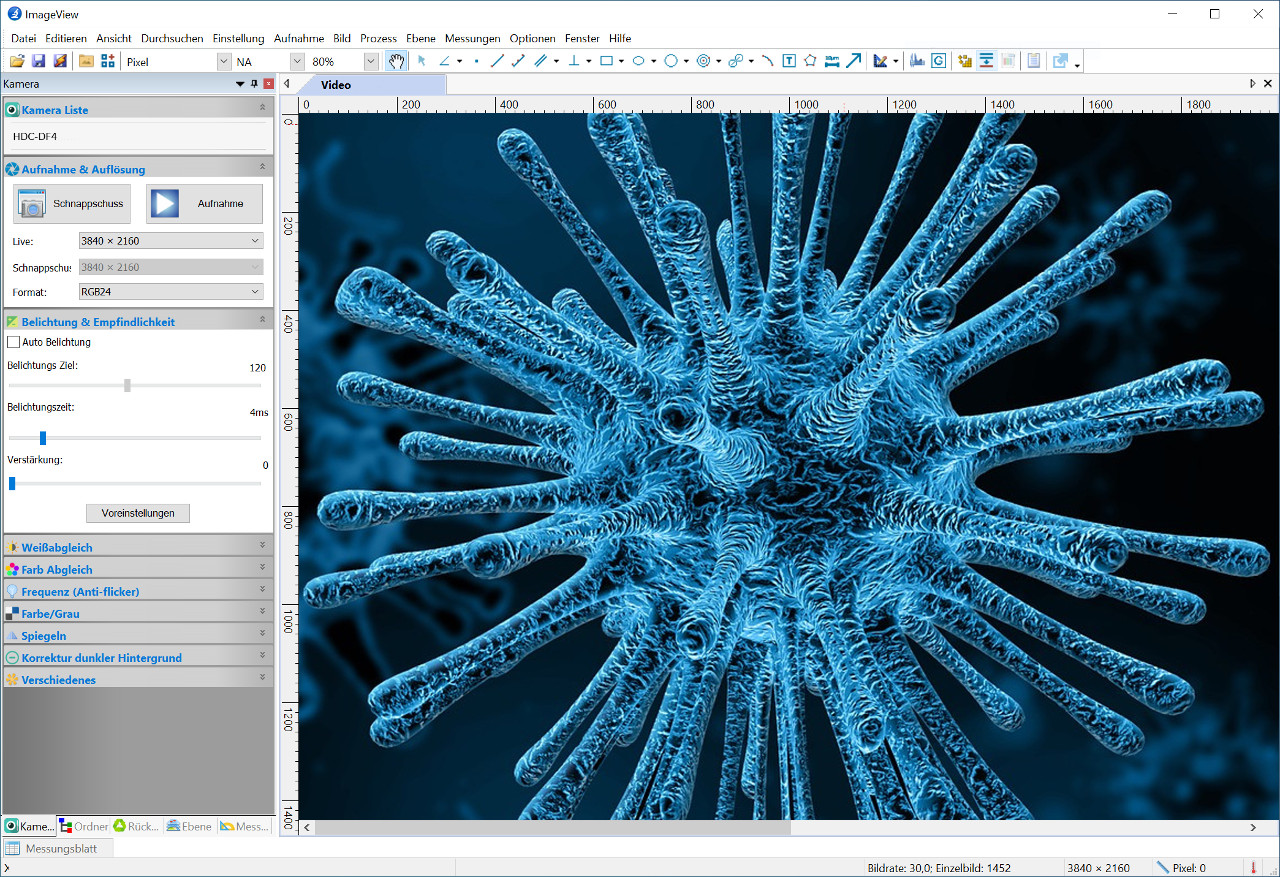 Technical camera data
Sensor: Sony IMX334 (C), sensor size 1/1,8"
Image capture resolution: 3840 × 2160
Refresh rate (HDMI, USB, Ethernet): 60,30,30 fps
Exposure time (sec): 0.004 - 1
White balance: auto, manual, auto with selectable ROI (Region Of Interest)
Language support of ImageView Windows software: German, English, French, Italian, Spanish
Special functions of ImageView: auto-stitch, EDF (extended depth of field), HDR, segmentation, time lapse, measurements
Outputs: HDMI, USB, Ethernet, SD card
Compatibility: Windows 10 (32/64 bit)
Connection: C-Mount
Weight (g): 550
Dimensions (cm): 9.9 x 7.8 x 6.5
Technical data sheet (PDF): see tab "Media"
Scope of delivery
Camera
Software ImageView for Windows
HDMI cable
USB cable
Power supply 12V / 1A
USB mouse
SD card 16GB
Operating instructions (German)
Software user guide (English)
Manufacturer's Guarantee
18 months from the date of purchase (EU)
We'll inform you if the price of this product will be changed according to your price alert.
---
Customers who bought this product also bought
Customers who bought this item also bought one of the following products.
Accessories
The following products fit well to this product.
Have you seen?
Customers who viewed this product also viewed the following products.