Product Manufacturer Sindoh
Sindoh is a South Korean manufacturer founded in 1960, well-known for its line of multi-functional printers and fax machines. After decades of providing printing solutions, Sindoh officially entered the 3D printing industry in 2016, launching the DP200 under its newly minted 3DWOX brand.

Introducing the 3DWOX 1 in 2018, Sindoh offers a brand-new 3D printer that offers the individual strengths of the previous models DP200 and the DP201, along with a more open system and improved performance.
Main Features of Sindoh 3DWOX-1
Easy to use and setup with patented features like Assisted Bed Leveling and automatic filament loading
Open source filament mode, allowing users access to third-party filaments
Flexible metal bed plate for easy bed adhesion and user safety. No more adhesives to increase adhesion or scraper to remove items!
Built-in HEPA filter (commonly used in air purifiers) to effectively trap very fine particles created during printing
Reduced noise level of 40 dB, which corresponds to library noise. Print through the night without being disturbed by noise of printing
Nozzle diameter 0.4 mm
Max size (WxDxH) 210x200x195 mm
Special Features of Sindoh 3DWOX-1
Fully Automated Loading
On many 3D printers today, the process of changing filament is a difficult procedure which involves cutting, retrieving and placing into small openings, all manually performed by the user. This makes the 3D printing a difficult experience, so with 3DWOX series, Sindoh makes this process simple. Just insert the cartridge and you're done.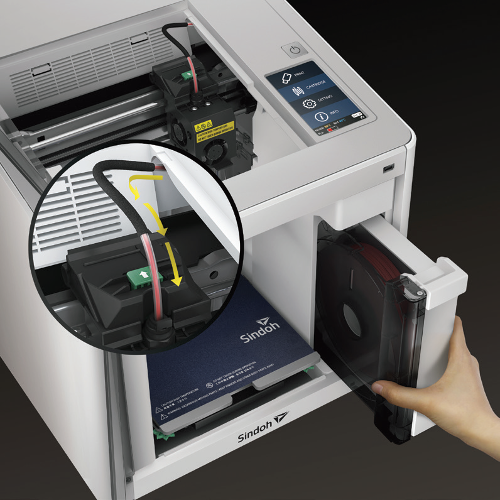 Assisted Bed Leveling
One of the keys to printing perfect prints every time is ensuring the print bed is perfectly leveled. You wouldn't want your house built on a slanted surface and the same is true for 3D printing. Bed leveling is important but with 3DWOX series, this is achieved very simple. The printer does the work and displays clear instructions to set the perfect level.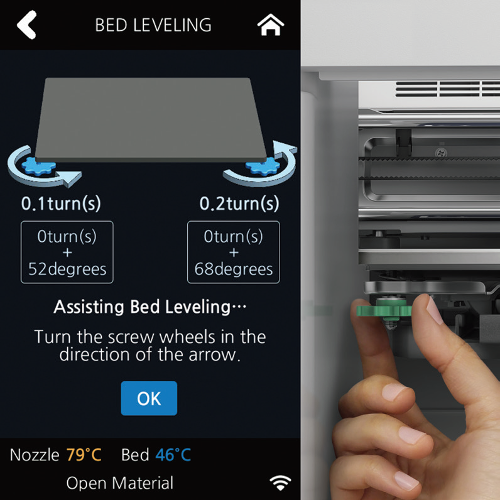 Flexible Metal Bed Plate
Why scrape the object down of the bed after printing? The flexible heating bed of the Sindoh 3DWOX-1 improves on the one hand the safety and the adhesion of the bed. On the other hand, it allows the object to be simply removed from the heating bed after printing by bending the bed.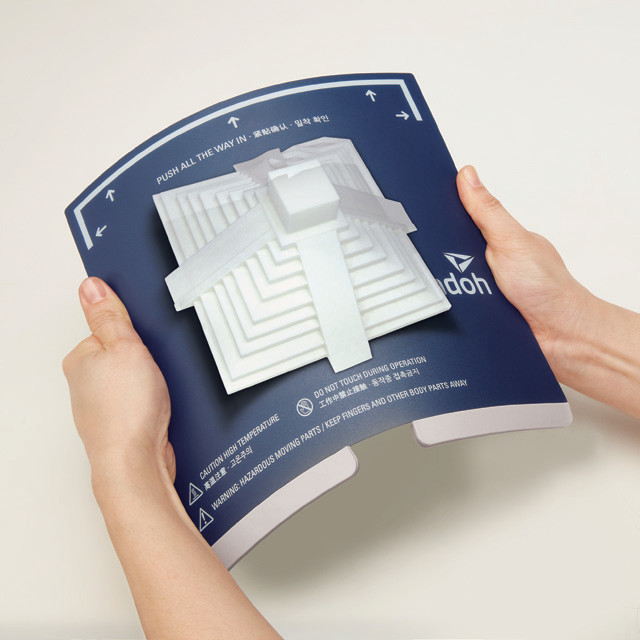 Remote Monitoring
3D Printing of intricate and large objects can be time consuming. Sindoh makes the 3D Printing experience easy so they have integrated a camera and LED lighting into 3DWOX for remote monitoring of the printing process day or night. Simply install the 3DWOX mobile app on your phone or tablet to watch the print progress from the convenience of your living room.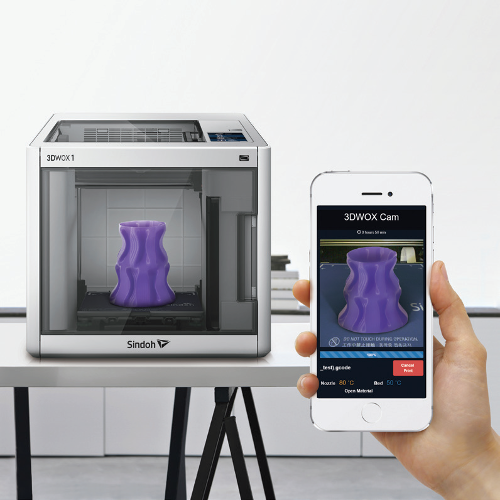 Software
The package includes a multilingual software package (3DWOX Desktop) to edit the 3D files and control the settings of the print.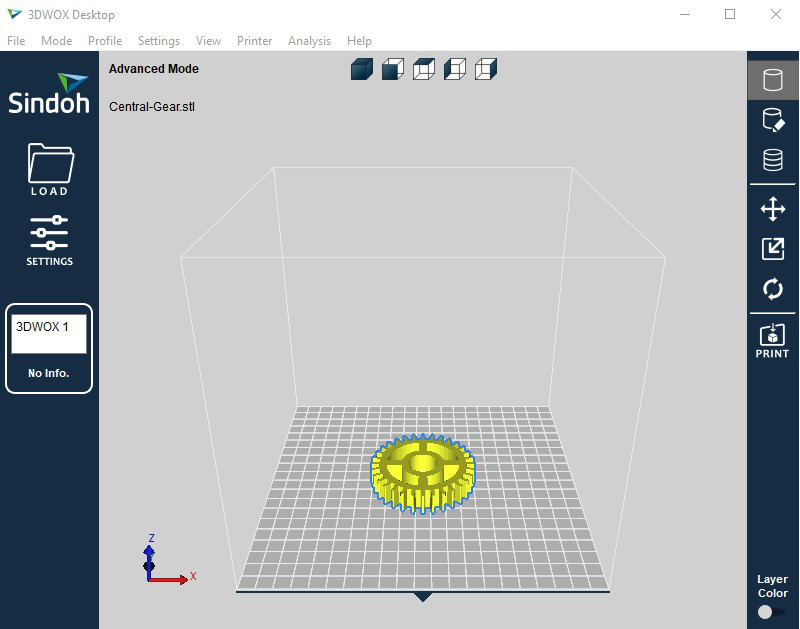 Technical Specifications and User Guides
The available user guides can be downloaded by selecting the "Media" tab on the top of this product page.
Technology: FFF
Build Size (mm): 210 x 200 x 195
Print Head: Single Nozzle
Nozzle Diameter (mm): 0.4
Filament Diameter (mm): 1.75
Material Sindoh Filament: PLA, ABS
Material Open Source Filament: PLA, ABS, ASA, PETG
Layer Resolution (mm): 0.05 ~ 0.4
Loading System Sindoh Filament: Auto Loading / Unloading
Loading System Open Source Filament: Manual Loading / Unloading
Ausrichtung Druckbett: Auto Level Measuring / Assisted Bed Leveling
Display: 5 inch Full Color Touch Screen
Support File Formats: Stl, Ply, Obj, G-code (RepRap), Amf
Interfaces: Ethernet, USB Flash drive, USB cable, Wi-Fi
Printer Size (mm): 421 × 433 × 439
Printer Weight: 15 kg
Filter: HEPA Filter (2ea)
Bed: Metallic flexible
Noise Level: 53 dB(A)
Monitoring: PC, Smartphone, Tablet
PC-Software language support: English, German, Spanish, French
Warranty: 1 year bring-in
Product Reviews
We'll inform you if the price of this product will be changed according to your price alert.
---
---
---
---
---
---
Customers who bought this product also bought
Customers who bought this item also bought one of the following products.
Accessories
The following products fit well to this product.