Dark Field Microscope STANDARD-Set
The standard set is a complete dark field system with LED technology for vital blood observation through the eyepieces and live view as well as recording of images and videos through the integrated camera. It is a standard solution for users who, on the one hand, value high image quality and on the other hand, want to work with a PC or notebook under Windows.

The supplied USB camera offers a very high resolution of 3840x2160 (8.3MP) and can still achieve a high refresh rate of up to 45 fps thanks to the USB 3.0 interface. This achieves a smooth motion display despite of the high data volume transferred.
The "small difference" to the UHD Set
The main difference to our higher quality UHD set is that the camera in the standard set does not have an HDMI output. This means that it can only be used under Windows and cannot be operated in HDMI mode, in which a camera can be connected directly to a monitor without a PC.
Standard set content:
Dark field microscope OPTIKA B-510DK
Microscope camera adapter HDC MA-24 (1x)
Microscope camera HDC DF2
You will find a more detailed description of the individual set components below.
---
Dark field microscope OPTIKA B-510DK
The darkfield microscope OPTIKA B-510DK belongs to the OPTIKA 500 series; This product line includes models with excellent performance, designed for laboratory use. It is ultra-modern (LED technology), robust (die-cast frame), ergonomic and is mainly suitable for the vital blood examination . It can be combined via adapter with microscope and/or SLR cameras for live viewing and microscopic recordings.
Head
Trinocular observation head, 360°rotatable, 30° inclined
Eyepieces
Plan extra wide field, PL 10X/22
Objektives
IOS Planachromatic 4X, A.N. 0.10, W.D. 17,3 mm
IOS Planachromatic 10X, A.N. 0.25, W.D. 10 mm
IOS Planachromatic 40X, A.N. 0.65, W.D. 0,54 mm
IOS Planachromatic 100x with iris, A.N. 0.36-1.25, W.D. 0,18 mm (oil immersion)
Nosepiece
Quintuple revolving nosepiece, rotation on ball bearings
Stage
Double layer with mechanical sliding stage, size: 233x147 mm, X-Y movement range 78x54 mm. Belt-drivein X direction. Vernier scale on two axes, accuracy 0.1 mm
Focusing
Coaxial coarse and fine focusing mechanism (graduated 0.002 mm)
Condenser
Darkfield condenser N.A. 1.36 with integrated X-LED
Bright field condenser
Illumination
LED-Technology, color temperature: 6.300K, LED average lifetime: ca. 50.000 hours of operation
Technical Specifications
Please click on the "MEDIA" tab to find the manufacturer's technical specifications.
Sample captures
The following video was taken through the trinocular tube with the 40X lens (total magnification: 400X)


---
USB Microscope camera HDC DF2
The DF2 model is the right choice for users who, on the one hand, have high quality requirements and, on the other hand, need a high-resolution microscope camera with good performance in difficult lighting conditions. Such applications are e.g. dark field, fluorescence or bioluminescence microscopy.

A good image quality is guaranteed by the SONY IMX485 image sensor (1/1.2"). In terms of resolution, this model offers a resolution of 8.3 MP (3840x2160) and offers a USB 3.0 interface which is the state of the art for transmission performance while working.

The camera is ideal for capturing the weak light emitted in fluorescence applications - thanks to its extremely high sensitivity (2188 mV at 1/30 sec) and low read-out noise.

Flexible exposure times : In addition to the auto exposure, the exposure time and the gain can be selected manually depending on the application. The exposure time can be selected in the software between 0.02 msec and 15 sec.

Software functions ImageView
The Windows software ImageView is included in the scope of delivery of the HDC DF2 microscope camera. Below you will find the user interface (language can be changed) and the most important functions.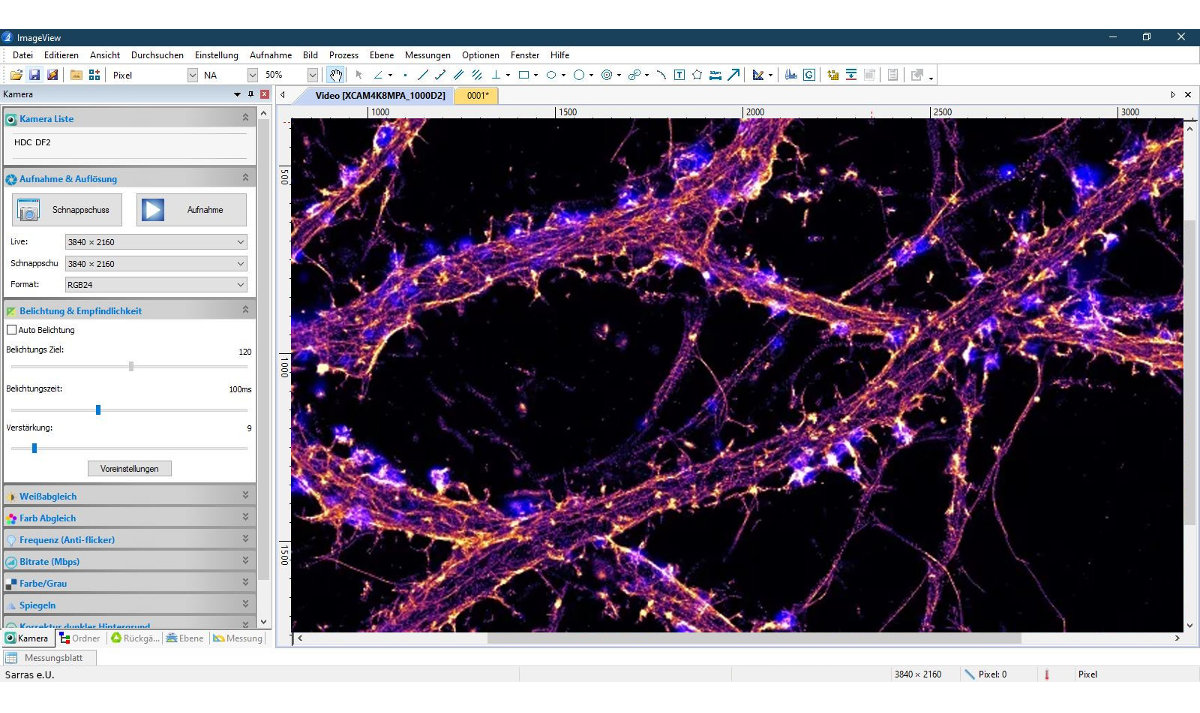 Camera control - adjust exposure, gain, white balance, color channels
Recording - pictures and videos
Interval recording - e.g. Documentation of disintegration processes
Measurements - lengths, angles, radius, arcs etc.
Image processing - rotate, cut, resize etc.
Auto-Stitch - joining of partial areas
Extended depth of field
HDR
Segmentation and counting
Various filters - noise removal, sharpening etc.
Technical data
Sensor: SONY IMX485 (color sensor)
Resolution: 3840x2160
Pixel size: 2.9x2.9 µm
Refresh rate: 70fps (1920x1080)
Refresh rate: 45fps (3840x2160)
Exposure time: ~ 0.02 ms - 15 sec
Outputs: USB 3.0
Compatibility: Windows 7/8/10 (32/64 bit)
Connection: C-Mount
Weight (g): 263 (camera without packaging / cable)
Dimensions (cm): 6.8 x 6.8 x 4.6
User manual: electronic (English)
Language support user interface: German, English, French, Spanish, Italian, Polish, Russian etc.
Technical data sheet: see tab "Media"
Scope of delivery
Camera
Software for Windows
USB cable
Manufacturer's guarantee
18 months from date of purchase (EU)
We'll inform you if the price of this product will be changed according to your price alert.
---
Customers who bought this product also bought
Customers who bought this item also bought one of the following products.
Accessories
The following products fit well to this product.
Have you seen?
Customers who viewed this product also viewed the following products.